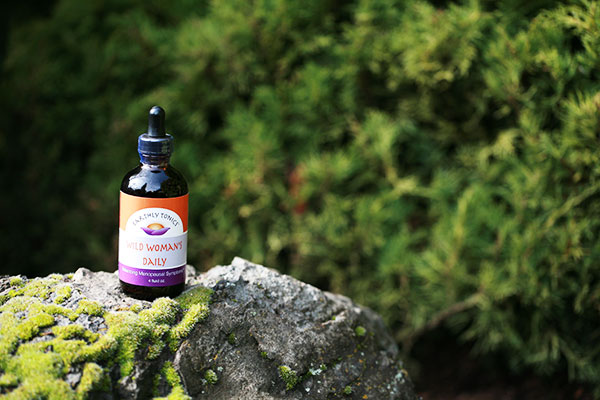 Wild Woman's Daily
Dr. Sylvia Chatroux developed the Wild Woman's Daily tincture in collaboration with her colleague and herbalist Gloria Schwartz, ND. Designed to treat symptoms experienced by perimenopausal and menopausal women, this tonic is taken daily to balance a woman's hormonal status as she approaches and enters the menopausal years. A recipe of several tonifying herbs, Earthly Tonics Wild Woman's Daily helps modify hot flashes, ameliorate mood dysfunction such as irritabilty and sadness, and rejuvenate sexual well-being.
Ya Ya Candy
Ya Ya Candy or Cream is a concocted pharmaceutical product that increases the declining libido often experienced during the perimenpausal and menopausal years. It addresses the problem of vaginal dryness and can be helpful in preventing recurring urethritis. Its biggest audience is those seeking libido improvement.
Responses
Wild Woman's Daily has helped to alleviate all my textbook PMS symptoms, especially hot flashes and night sweats. For 15 years, I had my period every two weeks. After one month of use, my period was regular and has been so to this date six years later. Regulating my period has by far been the most beneficial result for me. It has changed my life. I highly recommend Wild Woman's Daily—it has allowed me to tolerate the transition in a calm, peaceful state.
Wendy, Talent, OR
I came to the office thinking, 'I never thought I'd ask for drugs to get through perimenopause, but it's that or go insane!' Instead, Sylvia gave me Wild Woman's Daily. Though I was skeptical, I tried it. Over a year later, I won't live without it.… No drugs needed, sanity intact. I love this stuff! Thank you, Sylvia!
Marianne, Ashland, OR
Wild Woman's Daily is good stuff. I find that when I am taking it consistently, my energy levels are also more consistent. In general, I am more energetic and optimistic. I have always had a problem with PMS, and with Wild Woman's Daily, I experience reduced symptoms, including less depression and lethargy. I find that I am more regular—in more ways than one.
Judith, Ashland, OR
It's the most fantastic thing I have ever experienced. I am 60+ years old, but I feel like I am 20 again! On Ya Ya Candy, my sex life has improved. I am having so much fun!
Alice, Medford, OR
I am very happy Sylvia has an interest in working with patient's hormones. Ya Ya Candy brings me more energy. I recommend Ya Ya to others to help increase libido!
Veda J., Medford, OR