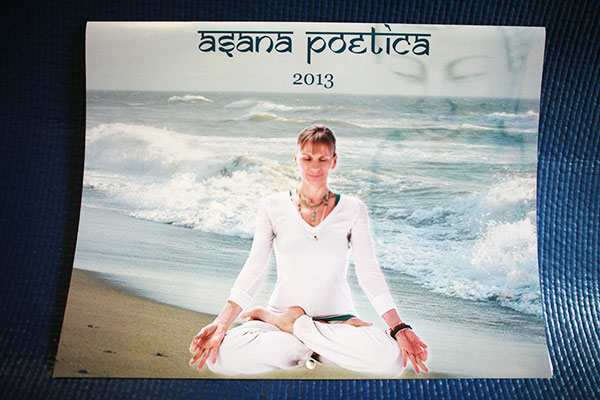 Asana Poetica Yoga Calendar
Dr. Sylvia Chatroux collaborates with yoga teacher Mona Therese Winston to produce a new version of this 13-month calendar each year. The calendar features beautifully photographed yoga poses combined with Sylvia's poems outlining instructions for each pose.
The calendar is intended to "entertain while emphasizing the metaphysical aspects and how each asana benefits you," says Sylvia.
Winston's husband, Robert Patrik Winston, photographed the poses in Ashland, Mount Shasta, and Washington's Olympic National Forest. Dawn Vivian designed the calendars.
Product Details
13-month calendar
Order Copies
You may purchase copies directly from Poetica Press by calling toll-free 1-877-POETICA (if you are outside the US, please call +1.541.482.6156). Calendars are also available at Hersey Health Care, Soundpeace, and Spirit of Shakti as well as from Mona Therese Winston.
Responses
The yoga poses that Mona Therese Winston displays on her new 2012 calendar—interspersed with the poetry of Sylvia Chatroux—are keys to a toned and vibrant body as well as a place to find inner peace and happiness.

—John Darling, Reporter, Mail Tribune, Medford, OR
Sample Verses
WARRIOR ASANA
Here's a place where you can breathe
the Peaceful warrior
Where you endure and you achieve
…
Focus with your gaze
Past the forward hand
Journey into inner strength
As you take your stand.