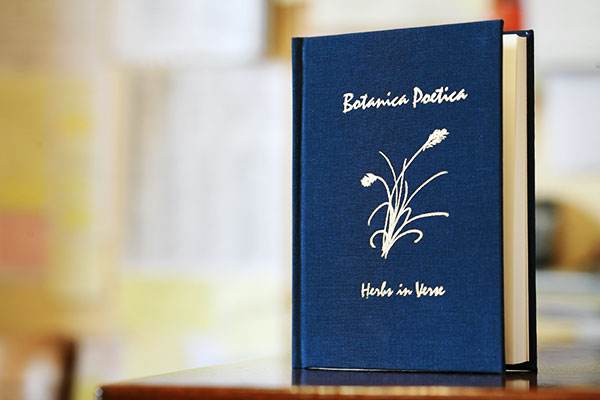 Botanica Poetica: Herbs in Verse
In her newest book, Botanica Poetica, Dr. Sylvia Seroussi Chatroux applies her deft poetic touch to the age-old topic of herbal healing by describing the indications for and applications of 111 common herbs and botanical remedies.
Sylvia has pioneered the use of verse as a way of bringing the richness of the healing arts to life. Her two previous works include Materia Poetica, which covers homeopathic remedies, and Medica Poetica, which address a range of medial ailments. With her playful wit and keen eye for language, Sylvia has penetrated to the heart of these subjects. Her poems are informative and endearing in equal measure.
Botanica Poetica is richly illustrated with 18th and 19th century woodcuts of the herbs featured in the poems.
Product Details
Hardback | $20 + shipping & handling (current Priority Flat Rate charges apply)
Luxuriously bound in rich blue cloth
Includes a satin ribbon bookmark
Order Copies
You may purchase copies directly from Poetica Press by calling 541.482.7047.
Responses
This special book will appeal to many. An enjoyable means of study for those learning herbal medicine with playful yet meaningful synopses of herbs already befriended by the botanical practitioner, this book will also charm any lover of plants and poetry.
Gloria Schwartz, ND, Naturopathic & Homeopathic Physician, Ashland, OR
The author draws from some of the authoritative contemporary literature for some of the plants' properties, so both folkloric and modern scientifically documented uses are put to verse.… Several copies of this book are certainly worth having—on the coffee table, for the backpack, bathroom, wherever one reads. A truly excellent gift for the holidays!
Mark Blumenthal, Founder & Executive Director, American Botanical Council, Austin, TX
Tired of trying to decipher obscure scientific language in herbal clinical trials? Take a break with some herbal poetry to refresh your spirit. I initially approached this book with some skepticism, but that vanished after reading the first poem and has not returned after reading 20 more. The style and rhyming is humorous, but the content is quite solid. I've never before seen a bibliography in a poetry book, but Chatroux has one, and it includes some of my favorite herbal reference books. She's done her homework on every single herb and somehow managed to synthesize the key information about each of the 111 herbs into verse. Most include, in addition to primary uses, information on adverse effects, energetics, or species names. The poems amaze my students and make them laugh. Me too. The poems are interspersed with old woodcuts of the plants. This book makes a wonderful gift for you favorite herbalist or student.
---
A Review in Verse:
The rhymes are funny, poignant too
her research thorough, the content's true.
One thing's sure, her poetry
is a lot more fun than chemistry.
Chatroux, a Family Practice physician who incorporates natural therapies, had plenty of practice before turning to the subject of herbal materia medica for her poetry. She's previously done volumes on homeopathy (Materia Poetica: Homeopathy in Verse) and pathology (Medica Poetica: Malady in Verse), each with the same skillful light verse combined with solid content.Paul Bergner, Editor of Medical Herbalism Journal and Director of North American Institute of Medical Herbalism, Portland, OR
Sample Poems
DANDELION
On any lawn, you're apt to find
A weed that grows called Dandelion
Its roots and leaves are known to cure
To heal the liver, make blood pure
And it is true that Taraxacum
Is also full of potassium
In case you need to diurese
It's powerful and works with ease
It will not leave you all deplete
Of minerals, it is replete
So, should your liver start to ail
The flow of bile begin to fail
If you've a case of flatulence
A loss of appetite perchance?
The bitter herb from root and leaf
Will surely bring you some relief
Improve digestion, stimulate
Relieve congestion, eliminate
Kidneys, liver, stomach, spleen
This common weed does wonders keen
The bitter cool of root and herb
Will on your system work superb.
GOTU KOLA
Are you taking Calculus?
Need your brain cells to excel?
Want to boost your memory
This might prolong your life as well
Here we have of Tropic lands
For rapid growth of skin and hair
Speed the healing of a wound
A salve to help your skin repair
Memory, intelligence
Gotu Kola, it can heal
Relieving stress, anxiety
Improve ability to deal
Here's a test that might impress
Feed this herb to your pet rat
He'll start to talk and win at chess
Tell me now, can you beat that?
Rejuvenate and stay young
Help damaged skin to improve
It's a tonic, helps fatigue
Put your life back in the groove!
YARROW
If you go out to the Battlefield
As in the days of old
Put Yarrow in your knapsack
It's worth its weight in gold
Yarrow for your bleeding wound
A poultice for your knee
Or for a painless hemorrhage
You'll want to drink the tea
For diaphoresis it's the King
The stem, the leaf, the flower
Reduce your fever, sweat full fling
We're talking Yarrow power!
ACHILLEA MILLIFOLIUM
An astringent disinfectant
A urinary healer
Hemostatic and protectant
It's an aromatic bitter
If you lose your appetite
Have spasmodic ailments
Or your tummy is uptight
If it's good enough for Achilles
Of Greek Mythology
To stop his bleeding wounds
Why, it's good enough for me!